Okay, I admit it, I love cake.  I'm not a big cake eater, but I am still a cake lover.  They are such beautiful things to look at and I love to dream about all the different flavour combinations out there.  They are lots of fun to make and can be decorated in a gazillion ways.  I'm guessing I'm not alone in my passion, whether you love cake to eat, to look at, or to bake, use cake lovers come in all types!
Look what I found by Easy Cake Ideas!  The perfect way to declare your love to the world!  You can choose from t-shirts, bags and aprons and they have heaps of cool sayings too, like "A Life Without Cake is No Life At All", "Save The Earth, It's The Only Planet With Cake", "Love, A Temporary Insanity Cured With Love", "Is Life Worth Living?  It All Depends on The Cake" and "Nothing Great Was Ever Achieved Without Cake".  Or, you can keep it plain and simple with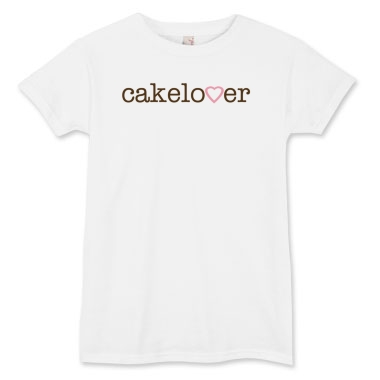 Which one is your favourite?